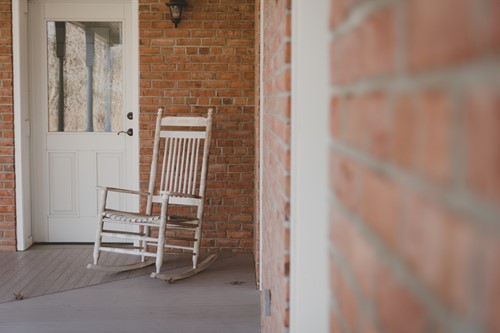 Rustic design is one of many styles that can be difficult to define. Elements of interior design styles are shared and combined so frequently that you might not know what is rustic and what might be something else. Luckily, there are a few specific characteristics unique to rustic design you can use to guide your decorating decisions. Here we'll go over the key elements of rustic interior design to give you a better understanding.
Raw & Unfinished Textures
Rustic design features organic and natural materials that show their original texture and colors. Real wood is essential, and the more weathered the better, whether it be for furniture or flooring. Rustic design celebrates age and well-worn pieces so you might even find some items classified as "distressed." Obvious grain, knots or imperfections are excellent—try reclaimed wood for better chances at a unique look.

There are many other natural textures combined with unfinished wood. Thickly woven textiles or rugs, raw (or faux) animal hide, well-worn leather and raw stone are common staples. You want each piece to be safe and usable but to stay truly rustic, stay away from glossy or heavily polished surfaces. Anything and everything that keeps its natural texture will be perfect for your rustic style space.
Exposed Beams & Brick
While more of an architectural element than strictly a decorating one, exposed beams are a key feature in rustic design. Exposed beams add visual interest to the upper view of a room and also promote a sense of tradition and coziness. You don't have to live in a ragged log cabin in order to get the same rustic feel of utilitarian and sturdy construction that exposed beams can create.

You'll also find a lot of exposed brick in rustic design. If you don't have real brick walls, you can easily replicate them with interior wall siding panels from your local home improvement store. Because brick has such gritty natural texture, it can still add to the rustic style of a room when painted white or another soft color.
Handmade & Natural Materials
Imperfections and uniqueness are essential elements of rustic design. Handmade items, while often more expensive, are a great way to keep the look of the room comfortable and accessible. If you don't go for truly handmade options you can still get the same effect with anything unique or second-hand. Some examples might be hand-woven rugs or blankets, handmade pottery or unique furniture items like end tables or chairs.

Regardless of the style, however, the materials are the most important thing. Rustic design uses natural materials that are commonly available like stone, wood, jute and canvas rather than man-made metals or synthetic fabrics. For a softer touch, you can go with linen and organic cotton.
Heavy Duty & Functional
While rustic design might favor simple furniture items, it doesn't mean they're minimalist in construction. Rustic design is all about large, heavy and solidly built furniture and accent pieces. The style is secondary to the material but there is very little embellishment or decoration. Go for well-worn but simple leather couches and chairs with chunky legs. Every piece should be functional rather than chosen purely for looks, but it's easy to find beautiful options that still fit the approachable and simple rustic style.

Rustic interior design is an effortless style to use in your own home. The next time you think about furniture and decor choices, go for natural materials with lots of texture and neutral colors. You can create a sense of comfort and tradition no matter how modern the setting.