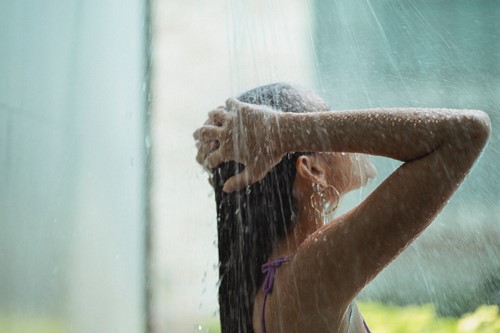 When you upgrade your bath to create a soothing spa environment at home, you may never want to leave the house again. Here's what we suggest for turning your ordinary bath into a relaxing home spa.
Add a Chromotherapy System
A chromotherapy shower system adds a relaxing light show to your shower experience. Chromotherapy, or color therapy, is based on the belief that certain colors evoke certain moods. Color theory has been used by interior designers for years. This is why you'll see few rooms with walls painted black, red or brilliant purple. Relaxing colors tend to be muted and soft. They can be warm or cold, and can make you feel happy or anxious accordingly. For home saunas, hot tubs and showers, chromotherapy works by bathing you in soft glowing light that induces relaxation and calmness. You can use a chromotherapy shower head alone or in conjunction with hydrotherapy (water therapy) and aromatherapy for the ultimate in pampering.
Consider a Bluetooth Showerhead
A bluetooth showerhead delivers your favorite soothing music safely to your bath. Music, phone calls or other audio are piped from your mobile device into your shower through a speaker placed around the showerhead. The speaker itself is waterproof which makes it the perfect method of delivery inside a shower. Listen to the relaxing sounds of the rainforest or hum along with favorite tunes as you wash away the stress of the day with a bluetooth showerhead.
Enjoy a Steam Shower at Home
Steam showers elevate the experience of getting clean to empowering new levels. Essentially it's a shower enclosure that doubles as a steam room with the addition of a steam-generating humidifier. Steam offers multiple benefits for your mind and body and does the following:
Improves your circulatory function

Prompts your body to release aldosterone(a hormone that helps regulate blood pressure)

Helps lower cortisol levels which in turn decreases stress

Clears congestion

Improves the health and appearance of skin

Helps you recover from your workout more quickly

Loosens stiff joints

Boosts immunity
If you have to stay home you might as well enjoy the seclusion. Add a steam function to your new or existing shower to reap the many physical, mental and emotional health perks that warm steam provides.
Finish with a Teak Bathmat
Every home spa needs an attractive bathmat. When you opt for one crafted of teak wood it elevates the sophistication of your interior design. Teak is naturally slip-resistant. This means no worrying about a fall, which makes a teak bathmat a good choice for homeowners with mobility issues. This wood is also resistant to water, also making them impervious to mold or rot. Mostly, a bathmat crafted of teak makes a bold statement. It takes your room from a simple bathroom to a luxury-style space where appearance isn't sacrificed for function.
When you're ready to upgrade your shower or bath, talk with a home design expert. Staying home may alter your active lifestyle but a newly updated bath could make the time at home feel luxurious.