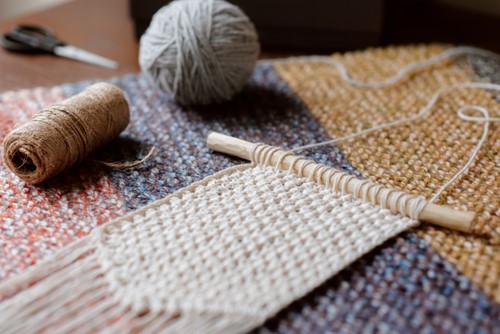 Yarn has been one of the most popular crafting materials for decades, if not centuries. While most people think of yarn as a material that requires needles or stitching in order to be used, there are actually many unique yarn craft ideas that do not require any stitches at all.
Check out these yarn crafts that are perfect for people of all skill levels:
Yarn Wreath
A yarn wreath is the perfect craft for someone who is new to working with yarn. This is a craft project that requires just a few supplies and a minimal time commitment. It also gives you the flexibility to be as creative as you want and to create a wreath for any theme or season. To make a yarn wreath, all you need is a Styrofoam wreath and two or three skeins of yarn in any color that you prefer. To complete the wreath, simply wrap yarn around the foam wreath. When the foam is covered, you can use a small knot to finish the project.
Yarn Wall Hanging
Another technique that yarn crafters enjoy using with this material is fringe. Yarn fringe can easily be created by knotting the yarn and cutting the ends so that it dangles like fringe. This is the simple yet beautiful technique that can be used to design a yarn wall hanging. You can use a wooden hoop, a hanger or another piece of line or string to create a yarn wall hanging for any room in your home. Simply choose the yarn color that will complement your room, knot it around the hoop or hanger and cut fringe so that the yarn dangles. The end result is a contemporary piece that uses traditional crafting materials.
Yarn Ornaments
Yarn ornaments are a festive craft idea that can be completed during the holiday season or during any time of year when you want to decorate your home with a few colorful yarn balls. To create yarn ornaments, you need to blow up small balloons and gently wrap them with yarn. Then, spray the yarn with sealer so that it forms to the shape of the balloon. Once it dries, pop the balloon and you have a yarn ball that makes the perfect ornament for your tree.
Yarn and String Art
String art is an up-and-coming craft that people of all ages and skill levels are finding to be fun and relaxing. For this craft you will need a piece of wood and small nails. Use the nails to create the outline of your string art design and then use the yarn to wrap around the nails to fill in the color and details.
Yarn Bookmarks
Not only are yarn bookmarks a fun craft to complete, but the finished products also are practical and useful. To design a yarn bookmark, use a popsicle stick as your base. Then, wrap yarn around the popsicle stick. You can use small accents to decorate the bookmark, or use it simply with the yarn tied around it.
These yarn crafts can be used within your own home or given to a close friend or relative as a gift. When you create something with your own hands using a common and affordable material like yarn, you can enjoy the personal satisfaction of crafting.